Are You Eligible for an NHS Health Check?
An NHS Health Check is an overall general health check that can highlight any particular areas of concern. For example, it may show you are at an increased risk of heart disease. If so, you will be given advice on how to minimize your risks and make positive changes to your lifestyle. If you are 65 or older, you will also be given information on dementia.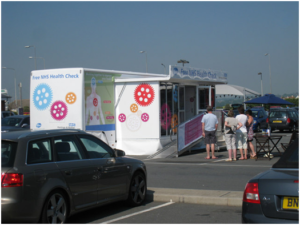 The risk of heart disease and strokes is a concern for everyone, but some people are more at risk than others.
How Is The Check Done?
An NHS Health Check takes approximately 20 to 30 minutes and will start with a survey relating to your lifestyle, diet and any family history of illness. You will also be weighed and have your blood pressure taken as well as give a small blood sample. The blood test can show how at-risk you are of developing diabetes, kidney disease or heart disease or from suffering a stroke.
Advice
After the check, you may be given ways to improve your diet, given some advice on what exercise to start doing and encouraged to lose weight. You might be informed about medicines which could help you reduce your blood pressure and cholesterol.
Alcohol and Smoking May Also Be Discussed
Life expectancy amongst women living in poor communities is declining, according to a recent report.
For other health conditions such as sexually transmitted infections, you can carry out a test in the privacy of your own home with London home STI kits from companies such as https://www.bexleysexualhealth.org/home_sti_kits/.
Where Do the Checks Take Place?
Health checks are usually carried out at your GP surgery or at a local pharmacy. Some areas offer them in the local library or leisure centers. It is also possible your place of work may offer a free health check, or a mobile unit could be set up in the local town center for drop-in sessions.
How Do I Book a Health Check?
Anyone between the ages of 40 and 74 will be contacted for a free health check every five years. If you have a pre-existing health problem, the chances are you are already being monitored frequently.
If you haven't been offered a test and would like one, contact your surgery and discuss if you are eligible and when you can make an appointment.