The beauty in a culinary friendship
One of my favorite animated films in recent years is Ratatouille. Watching the little rat Remy on his quest to become a chef and his unlikely friendship with the bumbling Linguini and their attempts at cooking in a bid to both become renowned chefs and to be respected by those around them. I was thankful that I had recently contacted http://steveunettaerials.co.uk/services/tv-aerials-repair-and-installation-cheltenham/ who offer  TV Aerial Installation Cheltenham way or I would have missed the film due to my bad reception.
My love for this film meant that like any typical fan I went in search of any facts that I could find on the film and its making. I thought I would share some of my findings with you.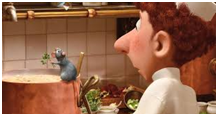 The animators, actors and other staff working on this film became a very close little community and were also hardworking and determined to make the voiceover and other noises in the film as life-like as possible. Some examples of this dedication include:
The motorcycle that Colette rides is branded as a "Calahan" which is the surname of the Director of Photography who worked on the fil – Sharon Calahan.
During the emotional scene where Remy hugs his father the noises, you can hear are in fact the noise of Patton Oswalt (the voice of Remy) hugging the film's director Brad Bird.
The research was key to ensuring that the film was true to the cuisines of France and that the film followed real life in terms of some of the images that were created. Some of the ways in which this was achieved include:
Brad Bird and Brad Lewis (the film director and producer) spent lots of time researching the Paris restaurant world and spent many hours sampling meals at Thomas Keller's restaurant in Napa in a bid to make the dishes shown in the film as authentic as possible.
Over 270 pieces of food were created. These items were created in a real kitchen, were styled and decorated, photographed and then digitally remastered for the animation.
When researching Paris as a city and also the restaurant world the film crew took in excess of 4,500 photographs that they used as reference materials when creating the digital animation shots.
The team wanted the compost heap that is depicted in the film to be as life-like as possible. To do this they took items like apples, bananas, and lettuce amongst other vegetable and fruit-based items and left these to rot. Whilst they were rotting photographs were taken at various stages and this enabled them to recreate the compost heap as a graphic.
If you haven't seen the film, it is definitely worth sitting down with a glass of wine (French preferably) and enjoying the delights of Remy and Linguini.